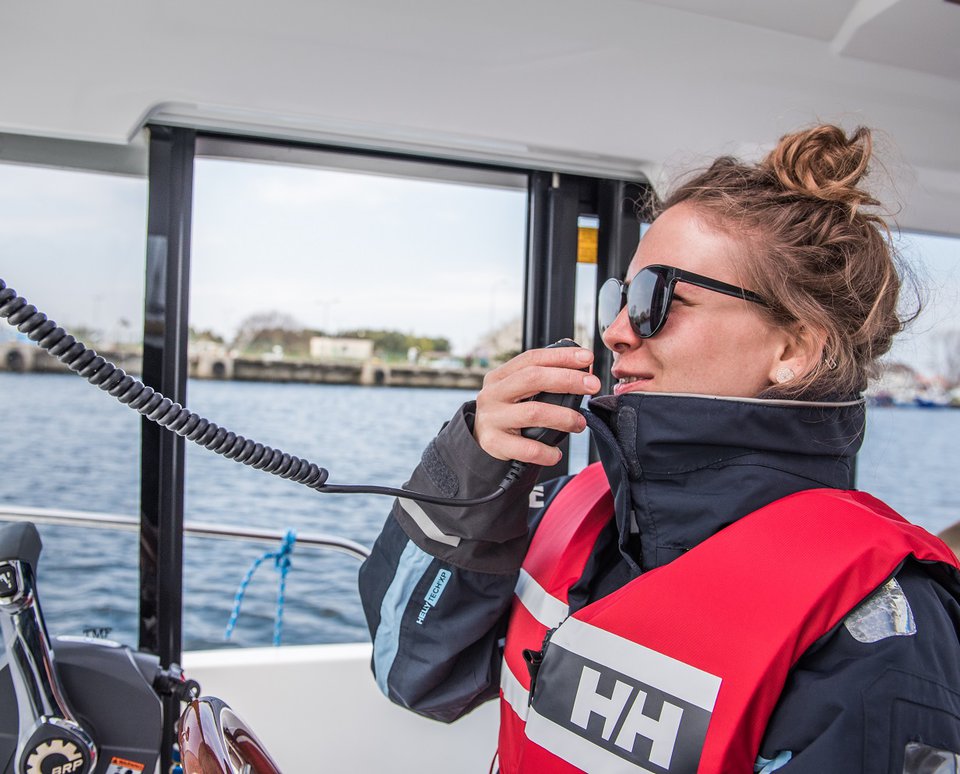 Marine Interactive SRC VHF Radio course
Everyone can take it - flexible approach!
The course is clear and practical and can be taken at one's own pace. You can choose when to take the exam. Practical consulting and exam after the course organized by Akademia Jachtingu in our RYA training centre.
Enrol for the course - click Buy the Course and pay online - we will send you the access to e-learning platform in a separate email.
If you have questions, fill in the CONTACT FORM, enter SRC in the body of the message and we will send you more details.
Planned dates and EXAM locations you may find below.
online, exam in Jastarnia or Warsaw
About the course
Short range marine radio operator course is addressed to those who want to get radio operator's certificate, operate the radio and know the procedures required to use it.
SRC VHF radio operator is a certificate required to charter yachts. There must be a person able to operate radio on every yacht equipped with it. Safety and comfort of everyday cruising depend on this. Thanks to the course, you will easily pass SRC exam and learn how to professionally and easily communicate at sea.
English SRC license is treated similarly to the Polish certficate and is accepted when registering sea radio stations and chartering yachts.
The programme of the course includes:
Information on VHF operations in marine radio band: types of connections, equipment and radio stations, frequencies, channels, certification and registration requirements.
Detailed practical knowledge on radio VHF operations, with DSC standard and in accordance with rules and procedures used in communication at sea.
Radio GMDSS procedures in particular emergency and general communication.
The use of electronic emergency and localization systems within GMDSS system i.e. EPIRB radiobeacon, SART transponder and NAVTEX.
Operation procedures used in DISTRESS, URGENCY and SAFETY priority communication and also in general communication.
Knowledge of proceudres used in radio communication at sea.
The course is run in English and consists of 8 modules. Participants have unlimited time to complete them - progress in recorded in user's profile. Standard time of completion varies from 5 to 8 hours. Access to the platform is valid for 12 months from the first log in. Modules can be revised numerous times at convenient moments.
Practical part of the course is completed on perfectly suited radio similulator. Before the exam in Akademia Jachtingu centre there is a practical training on our training radios to put into practice the theoretical knowledge from online course on real life radio marine equipment.
You can reach instructors during the whole course. They are ready to help and support when needed.
Once the course is completed, a participant gets the access to a test that is to check the acquired knowledge. The test can be completed any time and at one's own pace. A participant can take RYA SRC VHF exam when the Pre-Exam Knowledge test is passed (minimum 60%). A test can be taken 3 times (or more if needed). Taking the test is a great preparation for the exam in Akademia Jachtingu.
Requirements
16 years old,
communicative command of English (the course is clear and practical and can be taken at one's own pace).
The exam
The exam is organised in Akademia Jachtingu RYA training centre in Jastarnia or in Warsaw.
In order to take the exam one is required to complete the online course, get at least 60% result at online test and download the certficate of completion.
The exam consists of a written part - a short test and an oral part - radio correspondence. There is some time available before the exam to get acquainted with equipment and confirm best practice with instructors.
You can enrol for the exam anytime - date and time is arranged individually. For participants of yachting courses who want to pass the exam during the course in Jastarnia, we will arrange an exam at convenient time.
The dates of the upcoming exams - in the summer season they will be held once a week in Jastarnia.
July: exams in Jastarnia every Saturday
August: exams in Jastarnia every Saturday
September: exams in Jastarnia on Saturdays: 2, 16, 30
Learn how to operate VHF radio!
Check what the RYA SRC online course is like and what technical requirements are: RYA SRC radio operator
The price of PLN 490 includes:
access to online course,
training package – ebook RYA VHF Handbook.
support of an instructor if needed on every stage of the course.
Special offers for participants of sailing courses:
The price: PLN 450 - the exam is organised during the course.
The exam fee:
70 Pounds (includes RYA licence) – paid directly to RYA (or with the support of Akademia Jachtingu).
We will share a detailed instruction on how to pay for the exam via RYA website.
Your SRC course step by step - it is easy!
1. Enrol for the course clicking the button Buy the Course and pay online or, if you have questions, fill in the contact form or email us at: info@akademia-jachtingu.pl
2. Once you pay for the course you will receive a login, a password to e-learning platform and ebook.
3. You have one year to complete the course - at your own pace and chosen time.
4. The access to Pre-exam knowledge test will activate once you complete the course. It will be a great preparation for the exam in our training centre - go through it 3 times. You do the test at your own pace. The highest score is recorded - 60% is a pass.
5. Once you pass the test, you will receive the certificate of completion - click to activate it - you will need it for the exam.
6. Let us know when you want to take the exam - we publish dates on our website.
7. Take the exam with us (Jastarnia or Warszawa) - there will be no surprises. You will have enough time to try our training equipment and we will provide a short practical training.
Dates
No scheduled courses.