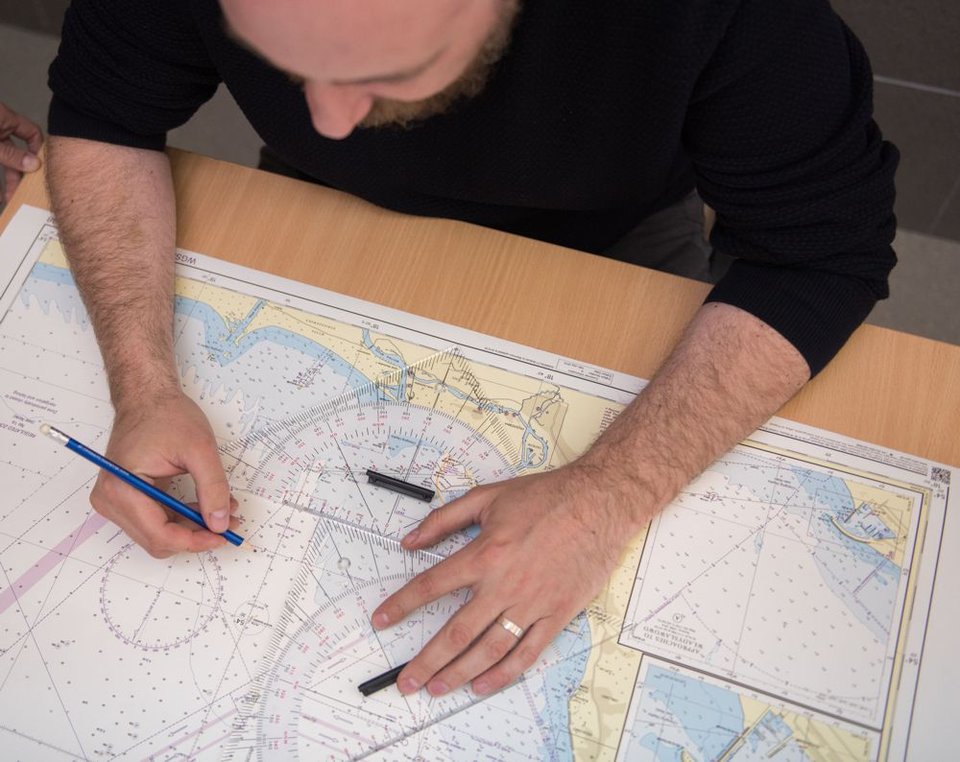 RYA Coastal Skipper/Yachtmaster shorebased
Shorebased course - advanced training materials
Advanced programme of 6-day training covers navigation in tidal waters, planning the route, meteorology and right of way.
This course is dedicated not only to candidates for practical RYA Coastal Skipper course and RYA Yachtmaster exam but also to all offshore skippers as an additional source of knowledge.
Jastarnia, Warszawa 6
About the course
RYA Coastal Skipper and Yachtmaster Offshore Theory course equals the level expected from candidates for RYA Yachtmaster Offshore.
The programme of the course is completed during a 6-day intensive course - 40 hours of lectures and exercises. There is a test at the end of the course which covers such tasks as navigation on the map, route planning and the knowledge of The International Regulations for Preventing Collisions at Sea.
This course is in English.
The course programme includes most of all advanced exercises but also theoretical knowledge on:
navigation in tidal waters (estimated position, course to steer)
measuring the water height in tides
meteorology - interpreting weather forecasts and synoptic weather charts
pilotage preparation
passage planning
The International Regulations for Preventing Collisions at Sea (preventing collisions, sound and light signals)
Requirements:
knowledge of navigation at the level of offshore yacht skipper;
knowledge of English.
Certficate
RYA Coastal Skipper and Yachtmaster Offshore Theory - Certficate
The Certificate is issued directly after the course on the basis of positive exam result. The Certficate of course completion confirms the knowledge required at the level of RYA Yachtmaster. Holding this certificate builds confidence for the practical RYA Yachtmaster exam and helps the examiner to assess theoretical knowledge of a candidate.
Next courses
The course consists of 6 full days of training and ends with a theoretical exam. There are two options, either 6 days in a row or in two parts: 3 and 3 days.
Syllabus of the first part: Revising the information on navigation, procedures and meteorology. Practical exercises of navigating on maps in tidal waters.
Syllabus of the second part: Improving skills at navigation, calculating water height in tides, pilotage preparation, passage planning. During this second part of the course many hours will be devoted to working on routes.
Your gain
Programme of the course covers all topics required for RYA Yachtmaster Coastal & Offshore levels. We offer a considerable amount of theoretical knowledge on navigation, handling yacht on sea, right of way and meteorology.
The course is for candidates who want to develop their sailing skills. We recommend it to all candidates for RYA Coastal Skipper course and RYA Yachtmaster Coastal/Offshore exam.
The price: PLN 1990 includes:
training,
training materials (maps, coursebook and workbook),
certificate of completion of RYA training.
The price does not include accomodation and food cost during the theoretical course.
Each participant receives the package with Yachtmaster Shorebased Notes coursebook covering theoretical requirements for Yachtmaster Offshore exam. Additionally, it includes the set of RYA training maps to be used during exercises and later self study together with a workbook and weather forecasts leaflet for practising route planning.
Next dates:
14 October - 19 October 2023, Jastarnia
12 January - 14 January 2024, I zjazd - Warszawa
19 January - 21 January 2024, II zjazd - Warszawa
16 February - 18 February 2024, I zjazd - Warszawa
23 February - 25 February 2024, II zjazd - Warszawa
Dates
| Start date | End date | Place | Price | Availability | |
| --- | --- | --- | --- | --- | --- |
| | | | | | |
| | | | | | |
| | | | | | |
| | | | | | |
| | | | | | |
Date
Price
Availability

14.10-19.10
Jastarnia

12.01-14.01
I zjazd - Warszawa

19.01-21.01
II zjazd - Warszawa

16.02-18.02
I zjazd - Warszawa

23.02-25.02
II zjazd - Warszawa